THEASTER GATES, umetnik koji gradi kuće i ljuljaške i mnogo mu je stalo do zajednice
Theaster Gates was born in 1973 in Chicago, USA where he lives and works.
The things he creates may stretch the idea of what we think of as art. For example as well as sculpture, installation and performance, he performs makeovers on old buildings.
He studied urban planning at college, which is the planning of buildings, road systems and neighbourhoods. He uses what he learnt from this to improve and revitalise poor areas of cities. He does this in lots of ways; from doing up old empty buildings so that they become something useful, to organising conferences and other events where people can meet to discuss ways of making society better.
This type of art is called socially engaged practice. Socially engaged artists collaborate with other people or communities to try and fix problems and improve people's lives.
He first encountered creativity in the music of Black churches on his journey to becoming an urban planner, potter, and artist. Gates creates sculptures with clay, tar, and renovated buildings, transforming the raw material of urban neighborhoods into radically reimagined vessels of opportunity for the community. Establishing a virtuous circle between fine art and social progress, Gates strips dilapidated buildings of their components, transforming those elements into sculptures that act as bonds or investments, the proceeds of which are used to finance the rehabilitation of entire city blocks.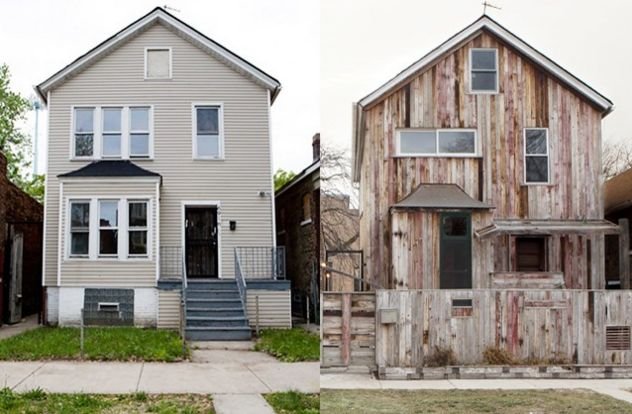 Theaster Gates is most famous for his big architectural projects. One of the biggest of these is The Dorchester Project. This is still happening, but began in 2006 when he bought an abandoned building in Chicago. He collaborated with a team of architects and designers to do the building up. This old empty useless building, (and others which he has worked on since then), has been transformed into an amazing, buzzing and very useful place where local people can do all sorts of fun and interesting things.
They can borrow books and music from the library in the building, go to concerts and performances, meet others and share ideas and go on swings. Theaster Gates calls his architectural projects 'real-estate art'.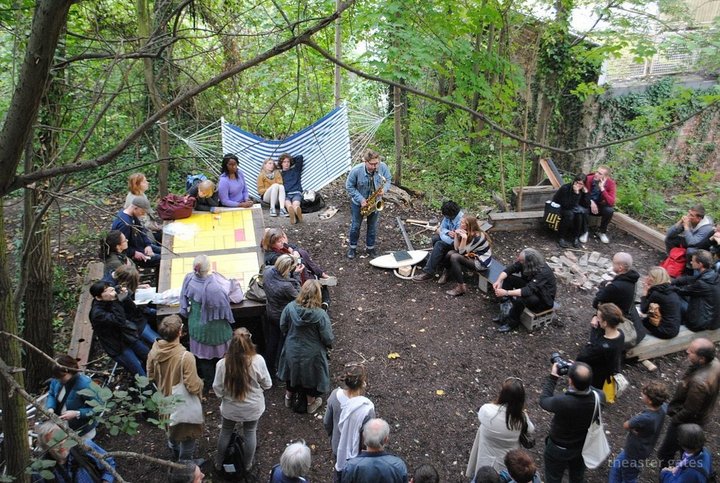 Recycling is important to Theaster Gates. He describes his building projects as part of a 'circular ecological system'. As well as recycling found materials for the renovation of his buildings; the building work itself is paid for entirely by selling sculptures and artworks he makes from old bits and pieces he finds inside the buildings.
His art explores the history and culture of black people in America.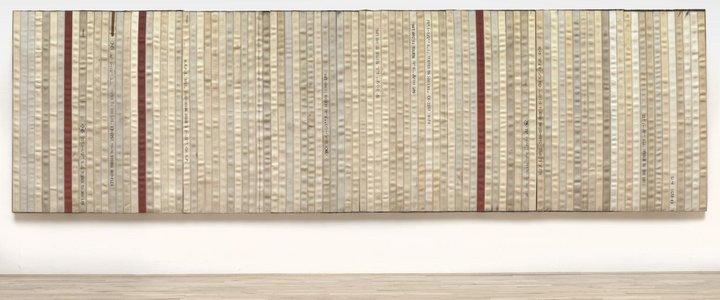 This artwork by Theaster Gates looks a bit like an abstract painting doesn't it? But it isn't what it seems! Look closely. Can you see what it's made from?
(It's made from old recycled fire hoses).
Izložba "Crna kapela" / Exibition "Black Chapel" Haus der Kunst, Munich, Theaster Gates's Emotional Confrontation With Racism
With Black Chapel, Gates references the racism embedded in modernism's failure to adequately acknowledge non-white sources of inspiration.
A gesamtkunstwerk encompassing sculpture, photography, sound, and architecture, Black Chapel almost literally transforms the museum into a place of worship. Two mirrored, iceberg-shaped sculptures on rotating platforms — housebergs, as Gates calls them — create a disco-like atmosphere in the central hall while R&B records from the collection of the Black American Olympic sprinter Jesse Owens (1913–80) are softly audible from the adjacent room. Two monumental illuminated advertising boxes fill the room with the presence of gorgeous Black women. The compelling images from the 1960s and '70s are from the archives of Ebony and Jet, Johnson Publishing Company's landmark magazines — the first mainstream magazines in the US addressed to Black readers. Gates confronts viewers with Black history in America, as well as systemic racism, by interweaving his installation visually and conceptually with the monumental Haus der Kunst, a major German museum for contemporary art built under Hitler's orders in Munich in 1933-37.
In the adjacent archive gallery are 1,800 LPs owned by Jesse Owens and acquired by Gates after Owens's death, lined up in a meter-long wall niche, across from a wall text detailing the building's Nazi history. A short video by Leni Riefenstahl projected onto the connecting wall shows excerpts from Owens's triumph at the 1936 Olympics in Berlin, where he won four gold medals. The paths of Jesse Owens and Leni Riefenstahl crossed again in 1972, when both traveled to the Olympic Games in Munich. For Haus der Kunst, Gates montaged heroic scenes of Owens running past a white competitor, filmed by Riefenstahl and commissioned by the Nazis, with scenes from the everyday lives of Black people in the 1930s.
The function of the archive is to preserve and to show. While Gates seeks to stimulate a discussion of race, politics, and inequality, he reactivates the archive in the here and now. Black Chapel succeeds because it invites both intellectual and emotional engagement, but it is not an easy show — the visitor's own, often white, gaze is continually scrutinized. Now reopened to the public, viewers can experience its relevance once again, as a reflective but hopeful "place of encounter": a convivial encounter on the red couch after months of social distancing, a cultural encounter with the past of Germany and America. And an encounter with existing power structures of gender, race, and class, which must be all the more strongly acknowledged in the event of a global pandemic.